Kwikset®, the leader in residential security, introduces the NEW SmartCode™ 916 Touchscreen Electronic Deadbolt with HomeConnect™ technology! Expanding your security system solution with a Kwikset SmartCode 916 Touchscreen deadbolt with Home Connect technology will allow the lock to communicate wirelessly with a Control4® system.


New Features:
- Capacitive touchscreen
- SecureScreen™ security feature – helps to ensure that user codes cannot be identified by examining fingerprints
- Sleek metal design for enhanced quality
- Tamper resistant interior cover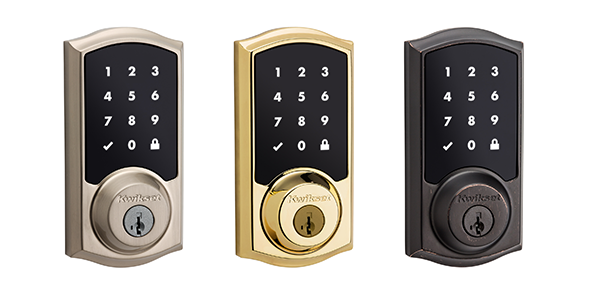 Available in:
Satin Nickel
Polished Brass
Venetian Bronze

Radio-frequency identification (RFID) is the wireless non-contact use of radio-frequency electromagnetic fields to transfer data, for the purposes of automatically identifying and tracking tags attached to objects. The tags contain electronically stored information.
Now your Control4 system can be used for home and commercial access control. Using RFID tags, a Control4 system in conjunction with HouseLogix Access Control Database (HACD) driver we can give you a robust way to manage multiple users.
Check out the video below for more info.