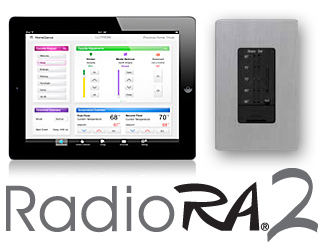 Are you looking for creative and cost-effective ways to save energy, reduce utility bills, upgrade your home's technological framework? Lutron makes this more than possible with its RadioRA 2 -- also known as wireless total home control.
The system provides you the power to adjust the amount of daylight and electric light, room/home temperature, and energy utilized by all of the appliances and electronics room-by-room or throughout your entire home.
To help you better understand the
Lutron RadioRA 2
, we hope the following outline of its benefits will reveal the value it can hold within your household:
Saves Major Amounts of Energy.
The system includes a combination of light, shade, temperature, and appliance control to significantly reduce the amount of energy you utilize each day.
Ease of Use.
With the push of a single button, it is possible to create the perfect combination of energy saving elements that can include adjusting room lights, shades, and temperature to the exact level that you desire. This can either include room-by-room control or throughout the entire home.
Ambiance Control.
RadioRA 2 is an amazing tool for creating the exact ambiance you are looking for at any time. For instance, when you fire up the flat screen TV for one of your favourite movies, you can set the system to automatically dim the lights, close the window shades, and adjust the temperature to a comfortable level.
Appliance Control.
It is possible to control all of the appliances in your home such as computers, monitors, televisions, and air purifiers by placing them on standby. By utilizing this functionality, you can save an estimated 10 percent of the energy you normally use on a monthly basis.
Custom Technology
. The system can be built out to meet your specific needs. You can control settings via wall panels, tabletop controls, or handheld devices. It is also possible to access controls remotely when you are on the road or out of the country by utilizing your iPad or PC Tablet.
The opportunities are endless with Lutron's RadioRA 2, thus the key to discovering the right mix within your home environment is to assess all of your lighting fixtures, lamps, electronics devices, and appliances and dreaming up the right solution for you.
Also, you should think about how you would like to control your system. Would you prefer wall panels, desktop and/or handheld controls, mobile device controls, or all of the above?
At Digital Smart Homes, we offer the entire
Lutron RadioRA 2
system and can help you find the best solution that will best fit your needs. We can also visit your home and provide ideas for helping you create a cutting-edge and efficient home environment. For more information, we invite you to visit our certified showroom or call our team at 604-375-3474.