What is Smart Home Control by Control4?
It's technology that links and controls the electronics and systems in your home – through one easy-to-use interface. At Digital Smart Homes, we believe that life's better when everything works together. Smart Homes start with a few basic categories: One Touch Home Theatre, Multi-room Music & Video, Smart Lighting & Shades, Advanced Temperature Control, Safety and Security.
Imagine Having a Single Remote That Will:
Control your home theater
Dim the lights as the opening credits roll
Turn off all your TVs when your kids should be doing homework
Alert you that the garage door is open...and then close it
Manage your lights, window coverings, and thermostats
Monitor your locks, lighting, and security cameras
Allow you to play music in any room of the house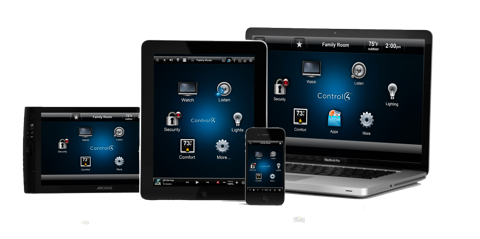 Control4 offers a complete line of home-automation products that makes sophisticated home-control solutions practical and affordable for every home. With Control4, everything works better because it works together - home theater, multi-room music, lighting, temperature, safety and security systems – are all controlled by a single platform.

We can install full-featured, practical, and reliable home-automation systems that are easy to use and at a price that fits into your budget. Our scalable designs also mean that it's not an all-or-nothing choice—you can start with a basic system and upgrade over time with solutions that fit your evolving lifestyle.
HOME THEATER
Control4 simplifies the control of audio, video, and home-theater components, eliminating the need for multiple remotes.
SMART LIGHTING
Control lighting using timers, motion sensors, and dimmers to create interior ambiance, enhance security, and reduce energy costs.
MULTI-ROOM MUSIC
Enjoy digital music collections - like XM or Sirius, Rhapsody or your personal iPod library - from anywhere in your home.
ADVANCED CLIMATE CONTROL
With Control4, help conserve energy and ensure comfort with pre-programmed temperature controls.
Do more with Control4...
Integrate a wide range of products including door locks, window shades, pool controllers, appliance monitors and much more. If you can imagine a way that home-control would make your life easier, we can probably make it happen!
SAFETY AND SECURITY
Integrate a security system to monitor your home and family from virtually anywhere in the world.
Home Smart Home is the publication that brings you the latest trends in home control solutions and smart devices. Read features and stories about people and places all over the world that have been transformed by automation. Get your FREE version of the latest issue here!
SPRING 2017 Issue

Check out this issue's light-tastic features. One of our resident experts lays out some key tricks of the trade for using smart lighting to optimize a staged home. We also visit an art gallery where smart lighting helps create the most brilliant colors you'll ever see on a canvas! And in Dallas, take a hotel elevator all the way to the top to experience a presidential suite with no less than seventeen lighting zones. We shine a light on two incredible residences in London: one a house with impeccable interior design and the other a condominium complex where every unit comes with automated VIP treatment. Then, explore the unique architecture and design of a three-level South African home, marvel at the jaw-dropping beauty of a resort at the very tip of the Baja California peninsula, and scope out the new showroom at the hottest custom car garage in America.