Technology and Design Integration

Digital Smart Homes understands no matter how sophisticated or elegant an electronics system might be, if the system does not fit into a professionally designed space, the final look, feel, and comfort level of the room may be compromised.
Many Interior Designers have experienced frustration working with media and home theater rooms because of poor communication with the audio video installation team or making Audio/Video an after thought. Multi-use family rooms also present a special set of contradictory needs, but mostly how to integrate displays, speakers, electronics, and wiring into a space where the overall design is critical to the home's success.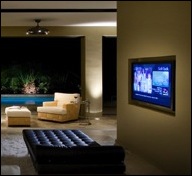 A Digital Smart Homes Technology and Design Consultant liaisons with the client, designer, contractor and our own installation and sales crew. We select the appropriate products and materials to design individual integrated systems.
Our Technology and Design consultants thrive on that challenge and truly enjoy's working with designers. Our team of professionals will provide you with sensitive electronics design help, clear explanations of what "real estate" is needed to claim for the homeowners systems, prompt communication, true attention to detail, and rapid response to the inevitable challenges. In doing such, we have experienced a wealth of loyalty from Interior Designer and Architects, which has gone a long way towards our success.
Below are just a few of the design solutions we offer.
MechoShades Home Systems is the only single-source
designer and manufacturer
of solar-shading hardware,
shadecloths, motorized
drapery tracks, electronic
control systems, and accessories.
Learn More
From built in amplifiers to built in
iPod docks
. We have the solutions to allow for technology to fit into your lifestyle without it becoming the centre point of your decor. Contact us to discover the many options available today.
Whether you're looking for solutions for a single room, multiple rooms or interested in controlling the light throughout your home with a light control system,
Lutron
gives you the freedom to personalize your light in any space. Seamlessly integrate electric light and daylight with Lutron shading solutions.
Learn More
In this issue of Home Smart Home our cover story lands us in Latin America, where we got a personal tour of the Mexico City condo that surprised judges in a coveted competition that's all about interior design. It's truly as beautiful as it is smart.

Download The Latest Issue of Home Smart Home
Sonos puts the control of all your music right where it should be — in your hands. With the touch of a finger you can find and play a world of music, whether it's streaming direct from the Internet or stored on your computer.

Take a Tour of the System
Leran More
Ingeniously engineered inside one simple cabinet, Geneva Sound Systems provide everything you find in conventional stereo. The system above has a pair of full-range stereo speakers. There is a CD player, an FM radio, and external source inputs. What's more: there's an iPod/iPhone dock, stereo subwoofers, and a digital amplifier.

Take a Tour of the System
Learn More