06/09/17 20:29

High-Resolution Audio
For Every Room
We are excited to announce our new Triad high-resolution multi-room audio product line designed to put the power and emotion back into your music. The product line includes two amplifiers and two audio matrix switches built from the ground up to deliver high-resolution audio in every room. Triad is now Control4's audio brand and is much more than fantastic-sounding, high-performance speakers.
Streaming music services are an important part of any multi-room audio system. With OS 2.10 customers now have access to three new streaming services including Spotify, SiriusXM and iHeartRadio (US only).
28/02/17 18:16
Entertainment is at the heart of the connected home, which is why Control4 is thrilled to announce that it has acquired Triad Speakers, Inc, a leader in advanced audio technology and high-end speakers. With over 80% of Control4 installations integrating at least one receiver, audio entertainment is clearly central to your projects. Now, we have a full line of speakers to bring all the audio in your installations to life via bold, beautiful sound.
Triad's 30 year heritage of delivering exceptional audio solutions is rooted in its unwavering attention to design and detail, its focus on the quality of the listening experience, and the unique customization of its products. Triad builds a comprehensive range of built-to-order premium audio speakers, engineered to exact specifications and meticulously assembled to deliver uncompromising sound for every space in and around the home. The end result is an audio system that is voiced to sound the same, regardless of whether the speakers are in-wall, in-ceiling or in-room.
Larry Pexton, Triad's renowned founder, and his entire team who have been together for decades, will join Control4. We welcome Triad's proven premium-acoustics experience and innovation to the company, enabling us to immediately expand our entertainment offering and develop new integrated-audio experiences for the future.
03/05/14 12:36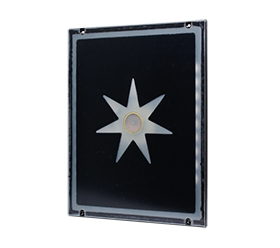 Discover a speaker that virtually disappears into the customer's wall while producing room-filling audio. Once installed, the Episode Kameleon Invisible Speaker can be covered with any finish the customer wants (even wallpaper!) to blend right in with the room's décor – making it a perfect solution for the most demanding applications. Plus it's built like a traditional loudspeaker, so it doesn't vibrate the wall around it to create sound like mounted transducers do. And for the finishing touch, we included a mounting template and spring-loaded brackets to allow for step-by-step installation.
Read More...