As an avid installer of smaller home systems and theaters for my clients, I'm finding little value in Savant's new Smart Host. I have been working with Control4 for a number of years now, and it seems to me that Control4 is still continuing to dominate this space. For comparison purposes, I've gathered the below details that I could from the Savant and Control4 websites: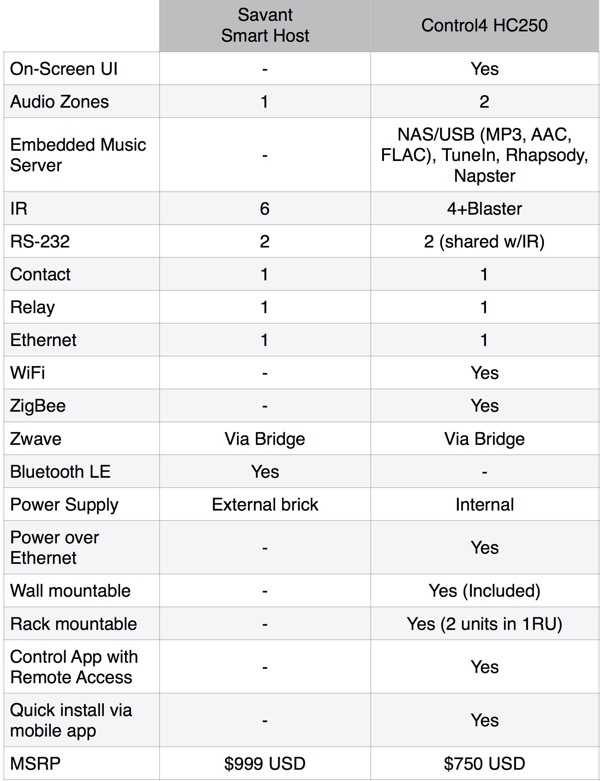 While the Smart Host is boasting more IR, I find that the more IR ports needs are becoming less needed. Control4's Simple Device Discovery Protocol for IP connected devices has made the world of IP control of Smart TVs, Blu-Rays and media players such as AppleTV super easy to set-up, without the need for cumbersome IR Buds. Even when I do need IR, but don't want the IR bud, the Control4 Blaster is there to help. For my customers, the On-Screen Display is used often for searching their movie database… often treated as a "coolio" factor with friends.
While Savant's message about controlling up to 12 rooms is interesting, the HC250 can do the same thing for less money. Depending on the customers, needs, we leveraged keypads, remote controls and the Z2IR device to control multiple zones with a single HC-250.
The HC-250, plus Control4's new SR-260, creates an awesome solution for entertainment centers and home theaters, at an MSRP that is less than the Smart Host itself. I'm struggling to see the real benefit of Savant's system. I know they have a great app for use on tablets and smartphone, but I have yet to have a customer that runs their theater without a remote. Savant's remote is twice as much as the SR-260.
I remember coming across an article last year that really highlighted the HC-250's capabilities, a white paper
by Dennis Burger
. I think this article really speaks the unmatched capabilities of the HC-250, especially at a price point that speaks to customers.
Further expanding on this issue of pricing, from my personal experience, I've found that programming the Control4 system is way easier than any Savant system and the customer gets a solid, elegant experience with a ton of expandability.

THIS IS MY OPINION ONLY - Harry Saini
In your effort to create a comfortable and secure home, it is essential to find the ideal home automation solution to meet your unique needs. Two of the most popular and robust systems are
Control4 and Savant
. Without a doubt, both systems offer a plethora of options for revolutionizing your home – yet there are inherent differences between them that we will attempt to outline.
Beginning with Savant, the system has the ability to intelligently light your home, deck out your media room, improve your audio set up, and seamlessly control climate. The system is run by a dedicated Mac server that connects the various appliances within the home for ease of use and offers lightning-fast processes.
On the other hand, Control4 is a powerful system that is intelligently priced with value as a focus vs. high-end luxury pricing with Savant. Control4 allows for you to control everything from lighting, to your home theatre and audio, to home climate.
Plus, the technology interfaces nicely with security and keyless door entry systems. When all is taken into consideration, the home automation industry at large considers Control4 the best value for a home automation system on the market, while Savant is luxurious first choice for Apple fanatics.
The following is a breakdown of the main differences between the two systems:

Control4 is considerably more cost-effective than Savant.
Savant is Mac-based and Apple reliant, while Control4 builds their product independently and is compatible with iOS, Android, Kindle Fire, and Computers supporting Adobe Air (both Apple and Microsoft).
Control4 offers a wide variety of native interfaces from standard remotes, keypads, and in-wall touch panels. Savant works with a handheld remote and/or iPad touch screen.
Savant supports iTunes. Control4 supports iTunes as well and can also pulls media via a robust database service to play MP3s, Apple audio and miscellaneous digital formats.
Savant offers completely customizable graphics and requires a custom program for almost every installation. Control4 has developed a simplified user interface which assists in saving on programming time.
Control4 is extremely easy to program and offers direct integration with several vendors in the AV/Security/Automation industry.
Savant offers lighting solutions through Light Touch, a company they purchased while Control4 has consistently developed their own lighting and many more products to fill the majority of your integration needs.
While both Savant and Control4 offer virtually an unlimited number of options, we at Digital Smart Homes are of the opinion that Control4 offers the perfect blend of cost-effectiveness, intuitive controls, speed and versatility. Plus, rather than relying on a Mac-only platform, it is possible to utilize the system on a number of devices. Of course, if you are an Apple enthusiast seeking a posh solution to your home automation needs, Savant may do the trick.
When considering the purchase of either a Control4 or Savant system, the secret to your success is outlining your exact needs and making a functionality wish list. It is then possible to select the solution that transforms your home into a more secure and functional environment.