03/04/15 09:57

As an avid installer of smaller home systems and theaters for my clients, I'm finding little value in Savant's new Smart Host. I have been working with Control4 for a number of years now, and it seems to me that Control4 is still continuing to dominate this space. For comparison purposes, I've gathered the below details that I could from the Savant and Control4 websites: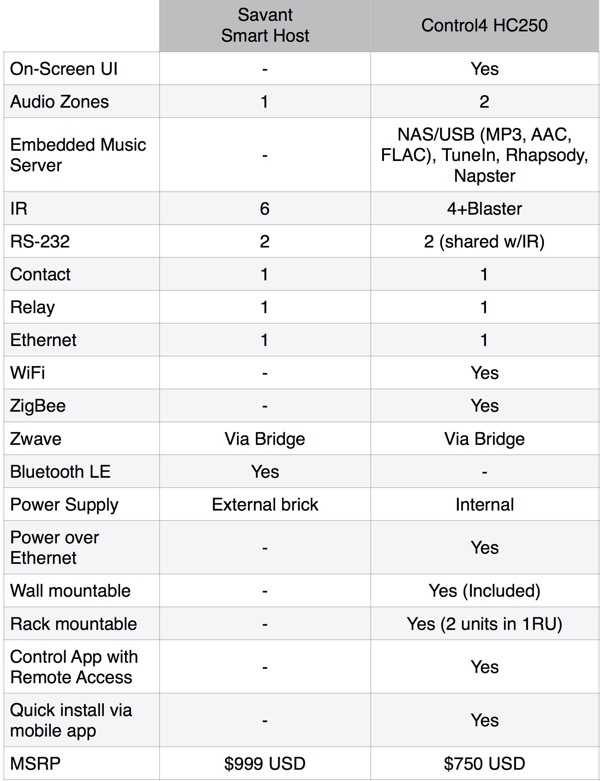 While the Smart Host is boasting more IR, I find that the more IR ports needs are becoming less needed. Control4's Simple Device Discovery Protocol for IP connected devices has made the world of IP control of Smart TVs, Blu-Rays and media players such as AppleTV super easy to set-up, without the need for cumbersome IR Buds. Even when I do need IR, but don't want the IR bud, the Control4 Blaster is there to help. For my customers, the On-Screen Display is used often for searching their movie database… often treated as a "coolio" factor with friends.
While Savant's message about controlling up to 12 rooms is interesting, the HC250 can do the same thing for less money. Depending on the customers, needs, we leveraged keypads, remote controls and the Z2IR device to control multiple zones with a single HC-250.
The HC-250, plus Control4's new SR-260, creates an awesome solution for entertainment centers and home theaters, at an MSRP that is less than the Smart Host itself. I'm struggling to see the real benefit of Savant's system. I know they have a great app for use on tablets and smartphone, but I have yet to have a customer that runs their theater without a remote. Savant's remote is twice as much as the SR-260.
I remember coming across an article last year that really highlighted the HC-250's capabilities, a white paper
by Dennis Burger
. I think this article really speaks the unmatched capabilities of the HC-250, especially at a price point that speaks to customers.
Further expanding on this issue of pricing, from my personal experience, I've found that programming the Control4 system is way easier than any Savant system and the customer gets a solid, elegant experience with a ton of expandability.