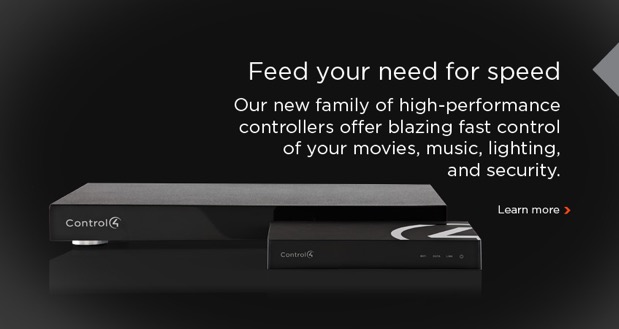 New one-room and whole-home controllers dramatically enhance consumer experiences with fluid on-screen control, blazingly fast media access, and instantaneous responsiveness.
Las Vegas, NV– January 9, 2012 at 9:30 AM PT – Control4, a leading innovator in residential and light commercial automation systems, announces two new models to its award-winning family of automation controllers: the flagship HC-800 and the versatile HC-250. Designed to harness the power of Control4's award-winning operating system, the HC-800 and the HC-250 provide the ultimate Control4 experience for speed, performance and flexibility at an exceptional value for homeowners and businesses.
At the center of Control4's updated line of controllers is the new HC-800, a powerful, flexible, multi-zone controller designed to serve as the cornerstone of any Control4 installation, no matter how large or demanding. The HC-800's lightning-fast, next-generation 1.8GHz high-performance dual-core processor delivers instantaneous, interactive on-screen control and browsing of even the largest media libraries.
Read More...