28/02/11 17:14 Filed in:
Events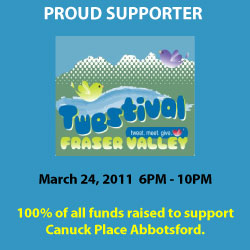 We are excited to announce our small involvement at this years Fraser Valley Twestival which will be in support for the "Canuck Place Children's Hospice" in Abbotsford . We will be setting up an 80" Screen and an Xbox with Kinect.
Twestival is a 100% sponsored event hosted in all major cities across the globe and is mostly organized by the local twitter community.
You can learn more about Twestival
here
If you would like to attend and/or donate visit
here