It is quite common for our customers to search for ways to seamlessly integrate their entertainment systems and electronic devices with the décor of their homes. Their ultimate goal is to preserve the beauty of their interior design, while essentially hiding the ugly side of technology such as wiring, speakers, and bulky consoles. Thus, they challenge our team at Digital Smart Homes to develop an action plan for making their dreams a reality. This post is designated to help you make the best decisions possible on building your dream design/technology scenario.
Hidden, yet Frequently Used
Many homeowners who frequently enjoy the best audio, video, and control gear assume that they are stuck with having to constantly behold the many wires and ugly parts that come with their beloved electronics. They often dream of having a beautiful home environment, but since they often utilize their high-tech devices, they feel they need to settle for obvious and cluttered.
If you are in this boat, you may be thrilled to learn there are some great hidden installation techniques available today, including:
Hanging flat-panel video displays, minus the wires. Flat-panel mounts are getting better every day, and some even come with motorized features for ease-of-use. In an effort to hide cables, some systems come with in-arm cable channels for concealment, while others allow for small devices and cords to be stored behind the display. There are several types of mounts that should be considered depending on your particular need. They can include everything from flat mounts, to those that tilt or articulate for optimum viewing pleasure.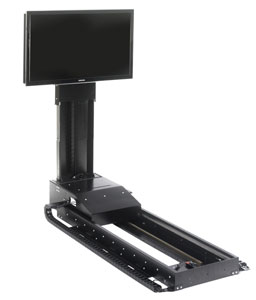 Seeking simplicity in the bedroom? You can implement an under-the-bed mount that pops out and up with the touch of a button. Once brought out into the open, these mounts can swivel up to 360 degrees for comfortable viewing.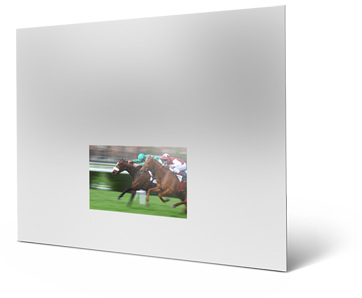 TV mirrors for hiding LCDs. It is becoming increasingly popular to use TV mirrors to hide TVs that sit over fireplaces or in other strategic spots. When powered off, some LCD screen options vanish and appear as decorative mirrors. Others are motorized, descending and ascending with the push of a remote button.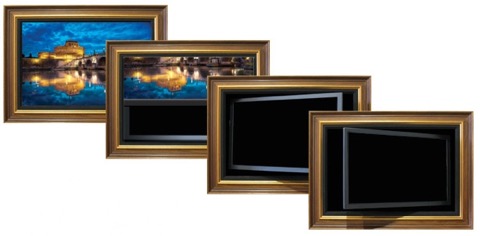 Art screens for TVs like no other. Homeowners can have their favourite art reproduced or choose from other existing artwork to cover up their TVS. The artwork ascends or descends with the command of a remote.

Invisible installations utilizing wireless multimedia kits. For those looking to control all AV devices with a single remote or an iPad and keep all components hidden within a cupboard or closet, there are some great solutions from Control4 and Harmony Remotes.
Hidden speakers for amazing sound. Today's most innovative speaker systems offer architectural models that are quite aesthetically pleasing. Some appear as shadows that are barely noticeable, others are actually built into the wall and blend in beautifully. The sound that is pumped out of these hidden speakers is quite amazing.

No matter what your needs, there is a hidden electronics solution for you. All it takes is a little imagination and knowledge of the current products on the market and you're set!