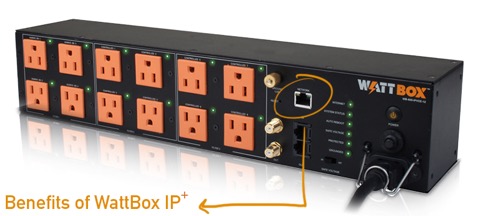 Self-Healing Auto Reboot
There's nothing more frustrating than wasting time and money to roll a truck to a customer's site for a simple reset. That problem is solved with Wattbox IP+. Thanks to its self-healing auto reboot, if a router, satellite receiver or other device loses connectivity to the Internet, our smart detection technology will uncover the problem and automatically cycle the power.
Remote Access and IP Control
For those times when a manual reset is required, Wattbox IP+ Remote Access enables you to cycle power from anywhere in the world. Turn off a single outlet - or all outlets – right from your PC or Mac's web browser. And thanks to IP control, you can download popular control system drivers to get simple network-based device management at your fingertips. Visit each product's Support Tab for more information.
See the interface
Managing Customer Accounts
When you need to remotely access a customer's Wattbox, don't waste time searching through your records to find the location and IP address. Instead, set up a web-based document to house and organize all important information – Wattbox types, locations and addresses – so it's simple to find. We recommend using Google Drive, and have created a sample spreadsheet to get you started (see the product Support Tabs). See how it's done
Sophisticated Programming & Scheduling
Advanced doesn't even begin to cover it. With Wattbox IP+ Programming & Scheduling you can create custom events, like power sequencing, and automate commonly performed functions. Does the wireless router act up over time? Automatically reboot it once a week to clear out any gremlins.
Email Alerts
Stay informed by setting up customized email alerts for key events that occur, like an auto reboot. This feature makes it easy to spot failure patterns, or just stay on top of what's happening with each system. With the ability to support multiple email addresses, alerts are sent wherever you need them to go.
Fast Setup
The supplied Wattbox Utility program takes the guesswork out of initial setup. Once your Wattbox conditioners are connected to the network, the Utility automatically detects them and provides a fast, intuitive way to configure IP addresses and launch the browser interface.
Read More...