Just when the world thought that it couldn't get any better than HDTV, there is a new technology that is about to change the way humanity experiences home entertainment. Introducing 4k -- the current digital cinema format that offers four times the image quality of HDTV. Soon you, your family and friends will experience the power of the latest digital cinema quality entertainment in the comfort of your own home.

A Short History of 4K
In 1999, digital cinema was thrust into the market with the help of George Lucas. His goal was to make the movie going experience more fascinating and enjoyable. Lucas worked with Sony and Panavision on Star Wars Episode 1 – The Phantom Menace in an effort to release the world's first movie utilizing a 1080p/24-frame-per-second digital camera. While the technology was far from perfect at the time, moviegoers gave the film rave reviews.
In 2002, there arose an association of movie studios who developed the Digital Cinema Initiative (DCI), LLC to assure the future of digital technologies and bring their costs down tremendously. This led to the release of the 2K format, which requires a 2048-horizontal x 1080-vertical pixel grid. This is slightly larger than the HDTV standard at 1920 x 1080.
The next step was the development of 4K for stadium seating movie venues. Sony Pictures was a major proponent of the technology, which provides a crystal-clear view no matter where one is sitting in the treater. Gone are the days in which certain seats within a treater offer less than perfect picture quality.
In case you're wondering if you have experienced 4K, James Cameron's Avatar utilized the format with great success in theatres. The technology played a huge part in making audiences feel as though they were sent into another world that could practically be experienced first-hand.
The next logical stop for 4K is the home, which brings us to 2012!
The 4K in the Home
It is slated for the future that a growing number of homes will take advantage of 4K, which boasts of resolution that is equal to 8.8 million pixels versus the just over 2 million pixels in the average 1080p HDTV image. Imagine enjoying four-times the detail of your current monitor or projector!
Home treater experts have shared openly that there is a definite set of challenges that must be overcome in getting 4K movies into the home. It is very possible that Blu-Ray Disks will be the bearers of 4K because they have the capability to house such large files. Some experts are purporting that streaming 4K through the Internet may not be workable in the foreseeable future; however, it isn't completely out of the question. Time will tell on the streaming front.
As for monitors that can display 4K, LG and Toshiba are soon to release 4K displays. While there will be very little 4K media to watch when the monitors are released, they will definitely enhance 3D movies. It has been rumoured that the first monitor to enter the market will be the 55' Toshiba featuring autostereoscopic 3D (i.e. "glasses-less 3D).
Additionally, we at Digital Smart Homes currently carry JVC's Reference Series 3D Home Cinema 4K projector which offers a contrast ratio of more than 120,000:1. You can also look for Sony's 4K home theatre projector (the VPL-VW100ES) to be released in September of this year.
If you have any questions surrounding 4K or other custom technologies and installation for your home, we invite you to call our offices at 604-375-3474. Stay tuned for more exciting news on current and future home automation technologies!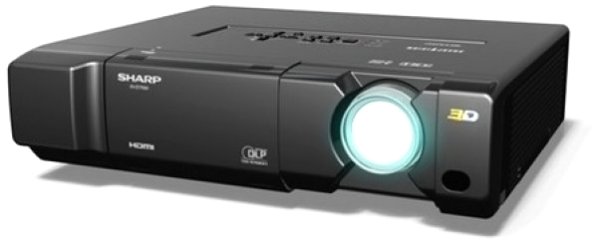 Sharp has introduced its first 3D Ready High-Definition High-Quality DLP® Theater Projector with 30000:1 High Contrast Ratio and Full-HD Panel (1920x1080). it works with active shutter glasses using either DLP Link or IR syncing technology by bouncing an IR signal off the screen the picture is projected onto.
Read More...
Broadcast HDTV source to every TV in your establishment or home all over your existing RG6 coax cable. "ZeeVee has shattered the cost and deployment barriers for HD video distribution within hotels, airports, restaurants, bars, homes, and everywhere else digital signage or high quality video is shown" The technology is based on the same platform that cable companies rely on to deliver rich HDTV to millions of users and now is available on a more localized level within your establishment. This saves the cost of rewiring or purchasing an HDTV satellite or cable box for each TV saving thousands of dollars and time.

ZvBox
Basically the "ZvBox®" turns the output of a VGA or HD source into an HDTV cable channel and broadcasts it over coax cabling to all connected HDTVs. To view the HD source, simply tune in the "Zv" channel at any HD TV.
Key Benefits of Coax:
Proven method: cable companies light up entire cities with it
Handles up to 135 simultaneous channels
Already in place in vast majority of buildings
Easy to deploy and expand coax systems using simple hand tools
System parts (splitters, amps, etc.) inexpensive and widely available
Connects to off-the-shelf HDTVs without additional decoder boxes at each TV
If your thinking of upgrading your viewing to HDTV at the most cost effective and quickest deployment for your restaurant, bar, hotel, airport, home or anywhere else you may want to broadcast Satellite or Cable HDTV, Bluray, DVD or Digital Signage over your coax, contact us to find out if the ZvBoz will work in your environment.