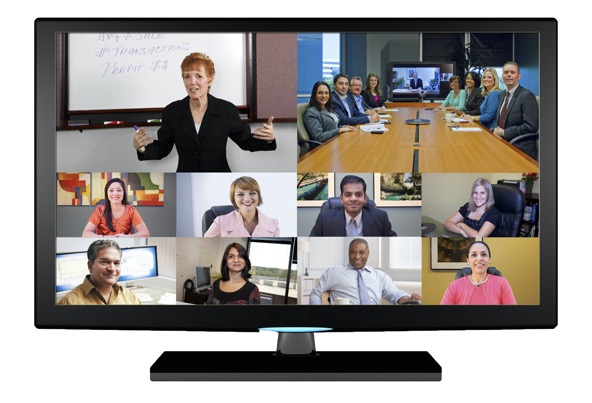 In today's world, video conferencing is increasingly becoming a way of life for leading and emerging organizations as they work to compete in the global marketplace. There are numerous reasons business leaders, educators, and individuals are finding it essential to invest in revolutionary technologies capable of connecting multiple offices, making remote training/education possible, and allowing for instant connection with others.
If you have been considering investing in video conferencing technologies and are still not sure as to how they can help you streamline your business processes, we hope the following five points will guide your decision making process:
1. Cut Travel Costs.
Gone are the days that you must invest heavily in travel expenses. Video conferencing allows for you to schedule numerous meetings and conduct them without having to budget for flights, hotels, meals, and entertainment.
2. Immediate Connection and Information Sharing.
Video conferencing can be facilitated at any time. Throughout the conference you can utilize numerous tools for sharing key information including PowerPoint slides, documents, computer screens, whiteboards, video clips, and more. There is no need to schedule for travel time, which makes for more efficient use of time and resources.
3. The Power of Face-to-Face Communication
. There is a definite power associated with being able to actually see the person to which you are speaking. This is why throughout history business leaders have spent numerous dollars on travel expenses for their employees as they work to connect with fellow employees, suppliers, and customers. E-mails and phone calls can only go so far where personal touch is concerned, as key messaging can be misconstrued without being able to read the other person's expressions.
4. Custom Infrastructures Available.
Today's video conferencing technologies can be scaled out to fit the exact needs of an organization. For instance, in the case that you want to connect each of your office boardrooms that are spread throughout the country, there are technologies that will mirror your boardrooms with matching décor and furniture that provide the illusion that you are sitting across the table from remote participants via large screens. On the other hand, if you are looking for a simple one-on-one conversation, video conferencing can be done via laptop.
5. Reduce Office Expenses.
Video conference has the power to save you numerous dollars on offices expenses and supplies including phone lines, fax lines, paper, industry sized copy machines, and more. The digital world makes the sharing of documents and information easier than ever!
We at Digital Smart Homes work with individuals and organizations build out their video conferencing setups utilizing LifeSize's technologies. A division of Logitech, the company produces a vast selection of products used by small and large businesses, educators, health providers, entertainment companies, and non-profits.
The beauty of LifeSize's innovations is that they have worked tirelessly to develop solutions that take every aspect of an organization's needs into consideration. Utilizing the immense LifeSize product line, we work with our clients to develop a creative solution that will help them streamline their business processes and cut costs. For more information, we invite you to either visit our showroom or give us a call at 604-375-3474.