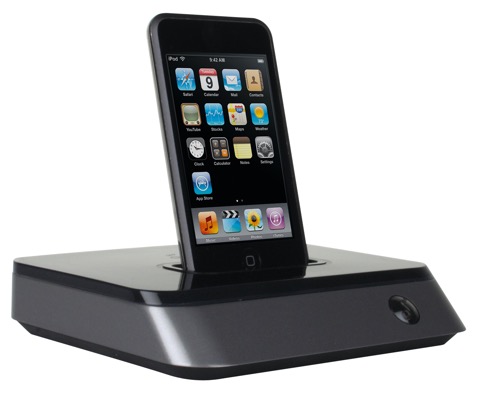 Introducing the all new iPort FS-23 free-standing iPod/iPhone dock.
This dock transforms your iPod or iPhone into a Digital Media System with On-Screen Navigation. Besides standing out as dock that connects to your TV with a full GUI (Graphical User Interface), the dock connects to your local network! This virtually allows you to sync you iPod or iPhone over your network without having to dock it directly to your computer. The advantages of a network connection can be quickly realized. You basically have a very inexpensive Media Server and fully unlocks your media even if they are DRM protected. It also has a remote zone IR control input so that the FS-23 Dock can be controlled from any room with several different control devices including Control4 or a Harmony Remote. Connects to your TV via component cables to give you the most optimized video playback of your Movies, TV Shows or Photos. Audio can be connected to your Hi-Fi system or directly to the TV for rich sound.
Other features include:
• View and navigate content from the iPod/iPod touch directly on your TV
• Charge the iPod/iPod touch while docked
• Select music, video, song, artist, album, and playlist
• View an elegant Now Playing screen that indicates title, artist, and album with cover art provided by the iPod/ iPod touch.
• iPort standard IR remote
• Control iPod/iPod touch settings such as equalizer,
• repeat, and shuffle
• Built-in pre-amplifier for variable volume control
• Stop-motion screen saver with time adjustment
Contact
me for pricing and availability